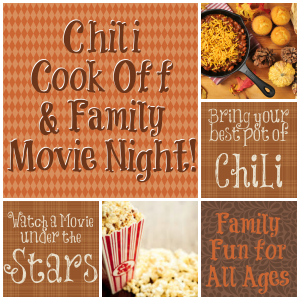 October 11th at 7pm. A movie.  A chili cookoff competition.  What more could you ask for to celebrate Fall?
BRING a LAWN CHAIR!
BRING a BLANKET!
BRING some BUG SPRAY!
And pray for it not to rain! (We'll move the movie indoors if needed).
Enter your best batch of chili or favorite baked goods for the competition, or just come and enjoy tasting all the entries!  

IF YOU ARE ENTERING the Chili Cookoff, please arrive between 6:30 and 6:45 so we can get you checked in and set up for the competition at 7pm.   If you are bringing a baked item to enter, please arrive by 7pm.
We'll kick things off at 7pm with our competition, then after dinner we'll watch a movie (Toy Story) together under the stars. (If it does rain, we'll move inside).
We will have prizes for the following:
-Best traditional chili
-Best Creative chilli
-Best Pie
-Best Cake
-Best "other" baking category