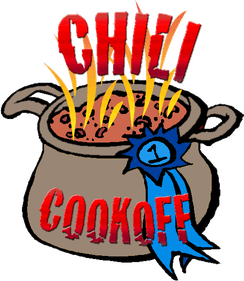 Sign up your team today for our Chili Cook Off on Saturday, October 13th at 5:00 pm. Entries are due by Sunday, October 7th.
Prizes will be awarded for 1st place, 2nd place and People's Choice.
A bounce house will be available for the kids.
Instructions:
1.  Each team must provide…
2-3 gallons of your chili
Any accompaniments wanted (Fritos, cheese, onions, etc – your choice)
A dessert
Table decorations… you want them to remember your team name!
2.  Teams must arrive by 4:00 pm to set up and be ready to serve at 5:00 pm sharp.
3.  The Fellowship Team will provide each team with…
1 six foot rectabgular table
4 folding chairs
Tasting cups
Tasting spoons
Bowls
Small dessert plates
Napkins
Entry forms are available in the church lobby. If you have any questions, please contact Brooke Morris.
We are also in need of volunteers to help on this day. Please sign up in the lobby or contact Brooke Morris if you're able to help with the following:
Judges
Bounce house monitors (15 minute shifts)
Setup crew
Cleanup crew