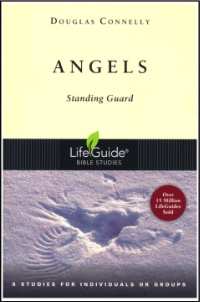 Our Wednesday Morning Women's Study Group will start a new study about Angels beginning April 10th. This will be an 8-week study based on Douglas Connelly's LifeGuide book, Angels Standing Guard.
Angels, 8 Studies for Individuals or Groups was written to help you discover for yourself what the Bible says about these marvelous beings. Thirty-four of the Bible's sixty-six books talk about angels in detail. Every New Testament writer confirms their existence. Jesus himself referred to angels as real beings who were involved in every realm of human activity. Each study includes an introduction, an opening discussion question, personal reflection, study questions, a prayer suggestion, leader's notes, and more.
If you are interested in participating, please contact Sue Mulvin (SueM@trinitysouthlake.org) for a book. The cost should be around $7.
This Study Group meets every Wednesday morning at 9:30. Please note that we will not be meeting on April 3rd.