It's our pleasure to announce that Whitney Avritt has joined the staff of Trinity as Interim Director of Christian Education. She assumes her responsibilities here starting August 1.
Whitney grew up in Greenwood, Mississippi and attended Mississippi State University where she earned her Bachelor of Science in Business and MBA degrees and worked as a graduate assistant in finance and economics. She also studied art at MS State. She and her husband, Alston, moved here three years ago after living in Memphis, TN for seven years.
She worked as a teacher at both the First Presbyterian Preschool in Grapevine and Hope Preschool in Cordova, TN, and is also the owner and artist of Pleasantview Pottery in Greenwood, MS. Whitney's volunteer experience includes work with Children's, Youth, and College Ministries at several Presbyterian churches in Mississippi, Tennessee, and Grapevine, TX. She is an ordained Deacon in the Presbyterian Church and has served as a Sunday School Teacher for 6th and 7th grade students.
The Avritt family has been attending Trinity since the beginning of the year. You will recognize Whitney's family by looking for the matching red heads. Whitney and Alston recently celebrated their 10th wedding anniversary and they have three children, Brewer (age 6), Adam (age 4) and Taylor (8-months old). They enjoy camping as a family and hope to take Taylor for her first outdoor adventure once the weather cools down.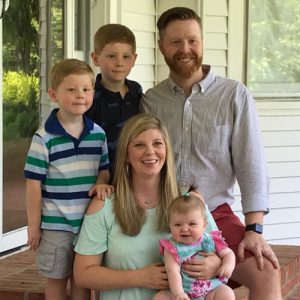 Please join us in giving a warm welcome to Whitney and her family.