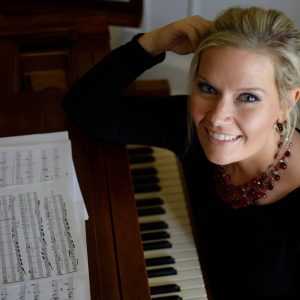 It is our pleasure to announce that Laura Warriner Bray has joined the staff of Trinity as Music Director.
The daughter of a church organist, Laura grew up in Madison Mississippi. She began her music career at the age of 14, directing and accompanying the children's choirs in her home church. She is educated in Vocal Performance and Piano with a Bachelor of Music from the University of Mississippi and Master of Music from the University of North Texas.
Laura is an active professional choral, chamber, and opera singer, performing frequently in the DFW metroplex. She is a lead alto singer with the Orpheus Chamber Singers in Dallas and a mezzo soprano with the American Baroque Opera Company. She is also a Certified Early Childhood Music Specialist with Music Together, an internationally renowned music and movement program for children ages 0-5.
Her passion for sacred music is one she shares with her husband, Clinton, who is a full-time organist at University Park Methodist Church. Laura and Clinton have been married five years and share their love of music with their three-year-old daughter, JenniCate. The family currently resides in Carrollton, TX.
Laura genuinely believes that making music together, regardless of ability level, truly makes us happier and healthier as individuals, and provides a higher level of fellowship that all members of our congregation can value.
Please join us in welcoming Laura as she begins her music leadership with us this week.