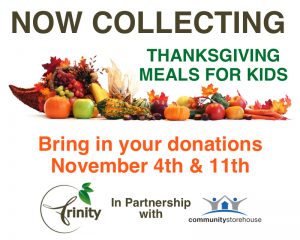 $10 Gift Cards are also needed for turkeys and hams.
Please bring your meal in a reusable tote.
Drop off in the lobby at Trinity on November 4th & 11th.
Questions? Contact the church office at 817.442.8983
Shopping List:
Canned Corn
Canned Chili
Canned Tuna
Canned Pork & Beans
Mac & Cheese
Spaghetti Sauce
Peanut Butter
Crackers
Granola Bars
Pop Tarts
Canned Manwich / Sloppy Joes
Canned Green Beans
Canned Pasta
Soup
Ramen Noodles
Spaghetti
Jelly
Cookies
Cookie OR Cake Mix
Cereal OR Oatmeal
Applesauce
Does this Thanksgiving Shopping List look a little funny?
Many of the kids served by the Thanksgiving meal program eat free and reduced lunches at their schools. With school being out for the whole week, these kids often go hungry. This list includes extra food to feed the kids during the week, in addition to food for a nice Thanksgiving dinner.